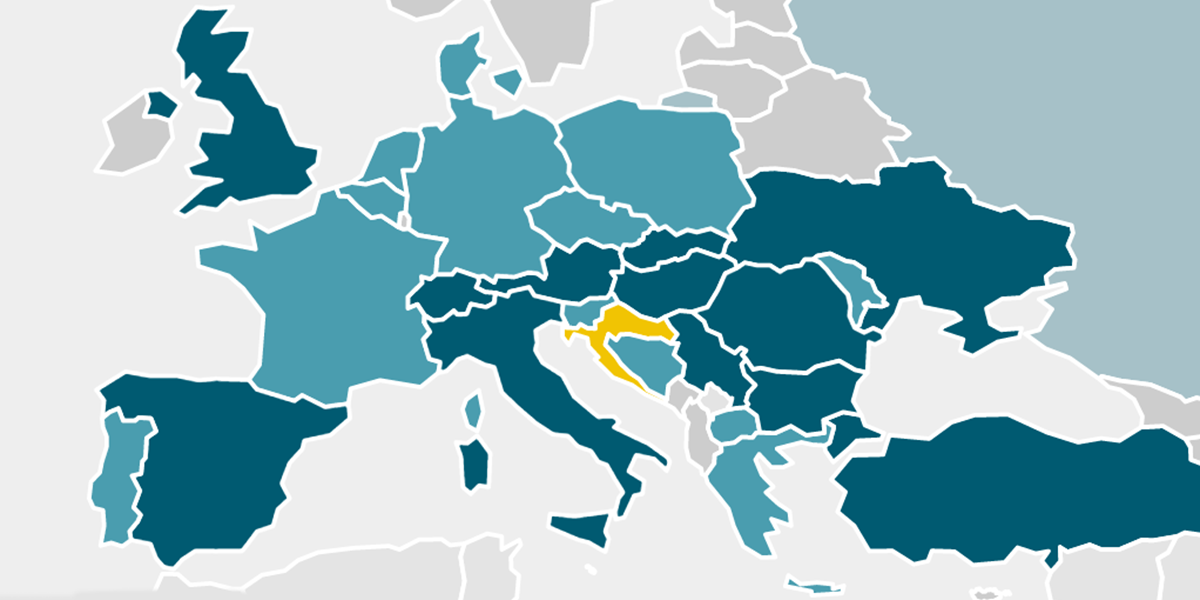 Check how MET Croatia Energy Trade is using Salesforce and Maven Mule products and services to boost up their performance and drive the innovation in ever-challenging energy market.
| | |
| --- | --- |
| | MET Group is an integrated European energy company, headquartered in Switzerland, with activities in natural gas, power, and oil, focused on multi-commodity wholesale, trading, and sales, as well as energy infrastructure and industrial assets. MET Group is present in 15 European countries, with more than 1700 permanent staff across Europe. It's actively expanding its footprint with i.e. a new solar plant in Hungary, booking capacities in a new LNG terminal in Croatia, and continuing to invest in renewables and power storage facilities. |
Challenges in the Energy Industry
MET is committed to safe and sustainable energy, navigating its business between gas as the cleanest fossil fuel, and solar energy. While the energy market is transforming toward ecological offering and constantly consolidating, MET is on one side closely monitoring how the integration of central Europe into global gas commodity trading is progressing, and on the other side looking at how to utilize emerging technologies like big data, instant connectivity, blockchain, and AI to boost effectiveness and efficiency of their operations.
With such dynamic market conditions, we had a pleasure to speak with Matija Sporis, CFO of MET Croatia. Matija gave us an insight into how changes in the market and technology are impacting local country business and how Salesforce supports MET's mission.
Innovation in the European energy market

MET Group's mission is to become a leading market player by implementing innovation in the traditional European energy market. As part of the efforts to reach its mission, MET Group is encouraging innovation in driving their local and group businesses. MET Croatia Energy Trade d.o.o., a member MET Group, is one of the role models in terms of innovations in the customer-facing process, and streamlining the lead2cash process around natural gas and power B2B market, into a unified digital journey.
Salesforce helping mitigate some of the industry challenges
MET Croatia was founded in 2013. and introduced Salesforce into its operations in 2015. For the Salesforce implementation, we've chosen Maven Mule, based on the positive feedback we got from other clients. Salesforce as our strategic solution was chosen over other technologies because of its rich set of features and customization capabilities. It turned out to be a winning setup - Salesforce itself is now used not only by our sales organization for pricing and product management but also for procurement, provisioning, and partially stock management. It's also used by finances and other teams, providing valuable insights into client segmentation, trends, consumption tracking, services, and cost control.
Rapid growth puts pressure on IT infrastructure
| | |
| --- | --- |
| | Over the last few years, our number of clients has increased four times, and we've managed to serve all those clients with the existing team by enhancing the current Salesforce solution. Maven Integration Platform and Maven Documents brought us the required efficiency in our operations. Our Salesforce, with most accurate financial and client consumption data, is now integrated into MS Navision, to ensure consistent financial reporting on a Group level. It's also integrated with the system for the distribution of electronic invoices to end customers, and with regulatory institutions related to consumption tracking. |
Additionally, Maven Documents gave us the required scalability and capabilities to create highly regulated invoice formats, containing consumption data, intervention contact details, barcodes, and much more. It significantly reduced time for the creation of invoices and error rates, as we moved from excel macros and manual invoicing.
Headline results
360° view at our customers
reliable insight into our sales pipeline and forecasts
integrated and automated billing and invoices processes
swift creation of rich formatted AR documents (invoices)
service desk capabilities
Further ambitions
We'd like to continue focusing on customer-first success, providing self-serve capabilities to our clients, backed up by Salesforce Service Cloud capabilities. On that journey, we're counting on Maven Mule to continue being our trusted advisor and reliable partner. Additionally, we'll for sure continue to innovate and build on existing infrastructure to further increase cost efficiency, now through more diligent vendor/supplier management and automation in the collection. To conclude, we are convinced that MET Croatia's activity will continue to contribute to the overall MET Group mission and innovation, in addition to providing security of the local supply market and enhancing the competitive services.