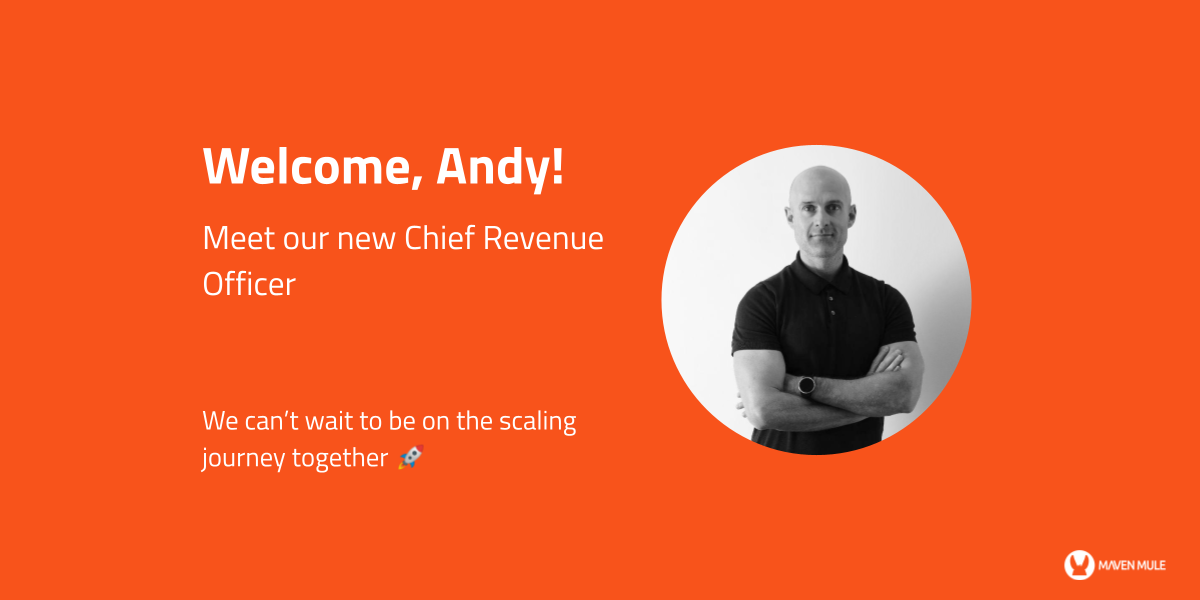 Welcome to our team, Andy Lower, our new Chief Revenue Officer!
In this interview, we'll delve into both Andy's personal and professional life, offering insights into his journey and the unique expertise he brings to our company.
Andy, could you tell us about your background and how you came to be in the role of Chief Revenue Officer at Maven Mule?
My journey began while studying History at university, where I worked part-time as a sales consultant in mobile phone retail. That was around 2001-02, a thrilling time when mobile phones were just taking off! I was drawn to the commission aspect, the dynamism, and the sheer excitement surrounding the technology. My career naturally progressed through various sales roles, B2B, management, and eventually led me into the software industry in 2015, where I first worked with Dragan and Ivan.
That experience paved the way for me to lead sales teams across APAC since 2019. I've always been drawn to environments where I can make a significant impact, which is what brought me to Maven Mule.
As a Newcastle United football team fan and with our love for football here in Croatia, are there any lessons from team sports that you plan to apply in managing your team in the company?
Calling me a "fan" might be an understatement! I've been passionately following Newcastle United since my first game in 1988 at the age of six.
Sports have taught me invaluable lessons. Dedication and hunger are essential, but the real takeaways are the importance of diverse personalities and skills for success, and the value of collaboration. These lessons are integral to my approach as a salesperson and leader. Additionally, embracing the possibility of failure is crucial; if you don't try, you never know.
Could you share some insights into your vision for the growth and revenue strategy of our company?
Absolutely. We're fortunate to have an amazing setup, some big customers, and real talent. Our focus should be on defining our product strategy, deciding what to focus on and where, and investing in the right areas for the largest ROI. Growth is essential, but it must be sustainable and aligned with what we can manage.
Expanding our partner ecosystem and continuing to deliver excellence are also key, as well as leveraging our network.
What do you believe sets our Salesforce services and products apart from the competition, and how do you plan to leverage those advantages in your role?
Salesforce services and products stand out due to their ease of use and scalability. Having used Salesforce since 2012, I can't imagine working without it. The market potential for us is vast; we just need to focus and ensure we deliver the right message.
Leveraging our contacts is crucial—everyone can contribute to our growth.
As someone with experience in the software industry, what are your thoughts on the future trends and opportunities in this space? What advice would you give to individuals aspiring to succeed in a similar role, especially those looking to merge their passions with their careers?
The future holds endless opportunities, but the competition will be fierce. It's vital to carefully consider your career path, not just chasing after big brands or buzzwords.
AI, for instance, is a growing area, but it may not necessarily be the right fit for everyone. Ultimately, making decisions based on what you want to do, rather than what you feel you should do, will lead to the most fulfilling outcomes.
In conclusion, we're thrilled to welcome Andy Lower as our new Chief Revenue Officer. His experiences, expertise, and passion are invaluable to our team. We look forward to exciting developments and growth for our company. Stay tuned for more updates and insights from Andy as we work together towards our revenue goals and make a positive impact in our industry.
Thank you for being a part of our journey!